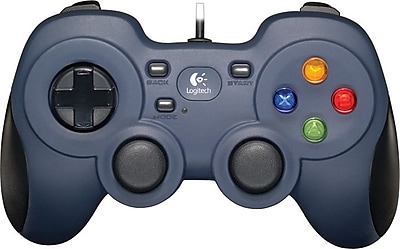 As I am sure a lot of teams have noticed, a common problem with the Logitech gamepads is that some will develop a problem where they will intermittently loose connection. We have three of these controllers, and this happened to one a year ago, and another one recently (during a competition
). I repaired the first broken one when it stopped functioning correctly and it has been working fine ever since. I figured I could post the process I went through to fix the controller to maybe help other teams that are having the same problems.
The most common issue I have found is a short in the cable that develops near the stress relief where the USB cable enters the controller. The goal of this repair is to remove this bad section of the cable and rewire everything with cable from farther up which is above where the short was. When it is all finished everything looks almost exactly as it did before.
Tools needed:
soldering iron
hot-glue gun
small phillips screwdriver
sharp knife
lighter (optional)
Instructions:
Because of the image limit I am just putting the link to each image below each step. There is also a gallery with step by step instructions
here.
That is all. When this repair is completed the gamepad should be just like new, but no better. This means that it is still susceptible to this happening again in the future. My guess is that the leading cause of this issue is how the controller is often put away. This is often done by wrapping the cable around the controller. The cable is usually wrapped too tightly, which puts strain on the cable right above the strain relief (which really is actually quite bad at it's job). The best way to prevent this issue from happening again is to wrap the cable around the controller more loosely with the first loop to avoid putting to much strain on that area of the cable.
Hope this helps someone!
-DakotaSamuel